About Heaven and Nature
Heaven and Nature is for people who love Jesus and love the outdoors.
The Bible teaches that Jesus created nature: Everything we see around us, and the things we can't see—like the far reaches of space, what's beneath the oceans, and the microscopic world. That's the worldview that's presented here on this website, on our social pages and in our publications.
We value God's heart for His creation, including people. We value beauty. We value stewardship of both nature and ourselves—our time, talents, health and relationships. We value getting into nature for fun activity, adventure, rest and retreat.
We value the written word of God, the Bible. We believe it's the authority for living for those who decide to follow Jesus. It has so much wisdom, direction and encouragement for how to live this life well and with purpose.
We value the life of the Holy Spirit in us to guide us, teach us, convict us of sin and bring us comfort. We believe He is living and active today in the lives of His people throughout the world. We welcome His presence.
Heaven and Nature, the website, began as a way to connect with readers of Heaven and Nature Sing, a devotional book that was independently published by Brodin Press in 2022. As we create additional products, they'll be hosted here, too.
Learn more about the writers and illustrators of Heaven and Nature Sing.
It's a place to host blog posts, videos, photos and artwork surrounding these values and themes. We hope you're blessed by it!
About Sharon
As long as I can remember I've loved being outside. I was raised by parents who took us five kids camping, hiking, paddling and on lots of road trips. They also gave me my strong Christian roots that I'm incredibly grateful for. I've been a Minnesota resident since 1978.
I've been married to my husband Nick since 1992. We're blessed with three great kids, a daughter and two sons, who are now grown up. They all live near us, which we're so thankful for. Our daughter is married to a terrific guy and they had their first child in July of '22, with Number Two on the way. I have absolutely loved being a wife and mom through the years, and am completely loving being a grandma!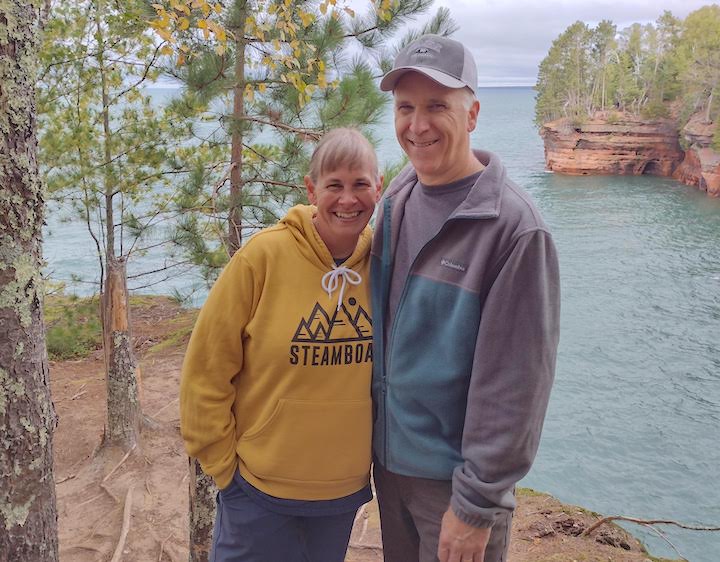 One of our family adventures I'll never regret is homeschooling our kids, K-12. During those years I also taught piano lessons from our home part-time for 22 years and served as our local church's worship director for 18 years.
My full-time self-employment journey began as our boys were finishing high school. I decided to go back into the graphic design and copywriting world I had left when our kids were little. I added some more training and experience and opened shop under my own name in 2014. I changed the name to Brodin Press in 2017 to more accurately cover all my various projects.
Besides Heaven and Nature and Brodin Press, I own Twin Cities Outdoors, a "hyper-local" website about our area's parks, trails, waterways and campgrounds. If you live in the Minneapolis/Saint Paul metro, be sure to check it out! I work for clients, too, writing, designing and editing.
Fun Fact: I was a music major in college way back when (which gave me the skills and experience to teach those piano lessons). And I've been an active member of our church's worship team since I was in high school (at the same church!). I'm no longer the worship director but still play regularly. And it's a joy to serve with my husband (one of the drummers) and two of our kids (worship leaders and musicians) there, too.
Fun Fact #2: I worked for the Billy Graham Evangelistic Association for five years (before kids), when it was based in Minneapolis. I love to tell people this: In all my years in the organization and around people who knew Mr. Graham personally, I never heard one negative word about him. He was widely respected by everyone. It was an honor to support the ministry of one of God's most faithful servants. And yes, I did get to meet him once—at a company picnic!
My favorite outdoor activities are paddling (we have a canoe, kayak and paddleboard), hiking, camping, cross country skiing and snowshoeing. I love to ride horses any chance I get, too. I love long weekends and long road trips in beautiful outdoor places with my family and/or friends.