Going-to-the-Sun Road is arguably the most scenic drive in the US. Every American should take this at least once—it's one of our national treasures!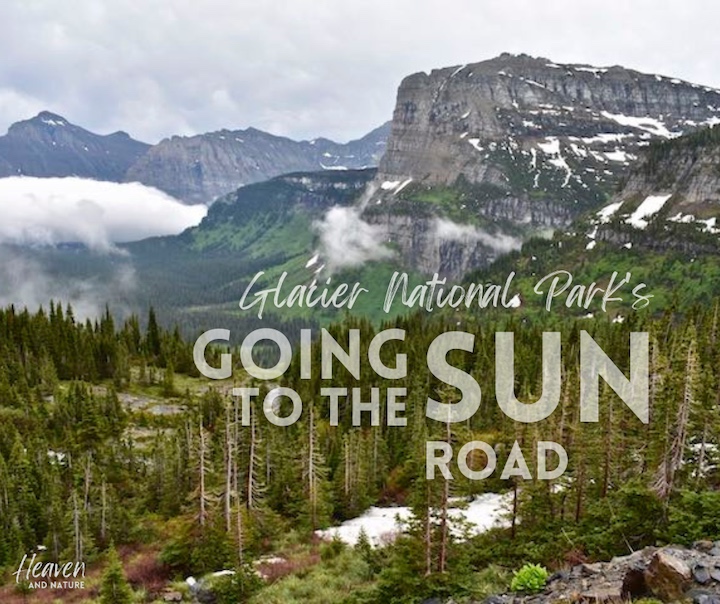 The mountain setting is nothing short of spectacular. Combine that with the alpine lakes and rivers, many wonderful hikes and the wildlife—and it's unbeatable.
Why Going-to-the-Sun Road is So Fabulous
Continuous, Jaw-Dropping Mountain Views
No photos or filming can do justice to the landscape you're immersed in on this road. You just have to experience it to be able to fully appreciate it. Ideally, give yourself a full day or more so you can stop several times.
There are several pull-offs along the 51 miles where you can stop, get out and soak it all in (don't stop on the road, though, except on a pull-off!). We had lunch at what is, without exception, the most beautiful picnic site of my life so far: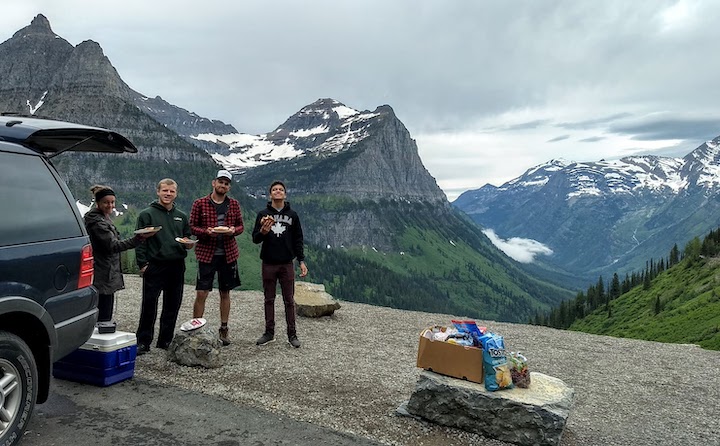 World-Class Hiking
Even if you just drive through you'll see some of the most stunning vistas in the park. But, you'll want to plan on at least one hike while you're there!
When you enter the park you'll get a newspaper with information, including lots of details and maps about hiking in the park.
There are at least a dozen memorable hikes along Sun Road, including Hidden Lake Trail and the famous 12-mile Highline Trail (which was closed when we were there due to still-treacherous snow cover).
You'll have a greater chance of the high trails being open if you visit the park during July-September.
Remember, grizzlies roam all over the park, including in the higher altitudes. Carry your bear spray within easy reach and be bear-aware.
Glacier-Fed Lakes, Rivers and Creeks
The Park is famous for its water, too—the clarity and the blue-green color of its lakes, rivers and creeks. 7-mile long St. Mary Lake dominates the east end of Sun Road and 10-mile McDonald Lake dominates the west end.
Below is a sample of the gorgeous and unique color of much of the water, McDonald Creek (no filter):
Spring and Summer Wildflowers
The late spring wildflowers in Glacier are abundant and dramatic. This is one of the big advantages of heading to the mountains earlier in the season.
The beargrass was blooming well this summer (apparently it blooms in cycles), as well as lupine, bluebell, scarlet paintbrush and many more. Up on Logan Pass I was thrilled to see a meadow full of glacier (or avalanche) lilies in full bloom: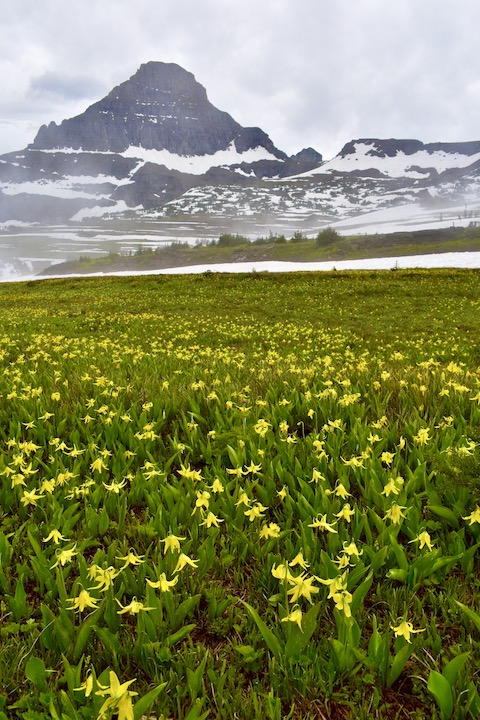 Logan Pass Visitor Center
Be sure and take time to stop in to the Visitor Center. They've done a nice job between the educational displays and the gift shop.
The Hidden Lake Trail starts right behind the Visitor Center, and is well worth it. It's short—just three miles total (out and back)—but the views are, again, unbelievable.
The Only Downsides
The Crowds
July and August are the busiest months, but from the time it's fully open (usually mid-June) until the snow makes it impassable again (the year we were there last, 2019, they got 4 feet of snow in early October!), you'll find lots of people.
Your best bet is to get going early in the day—as early as your family or group will agree to. Get up at sunrise and you'll deal with far less traffic and far fewer people.
Since we were camping down at Two Medicine, we had an hour's drive just to get to the the St. Mary Entrance. Between that and spending an hour in the really nice gift shop there, we got on the road about 9:00 a.m.
It helped that rain was forecast for the whole day—we didn't have an issue with crowds until after we finished our hike at Logan Pass. The afternoon drive was much busier.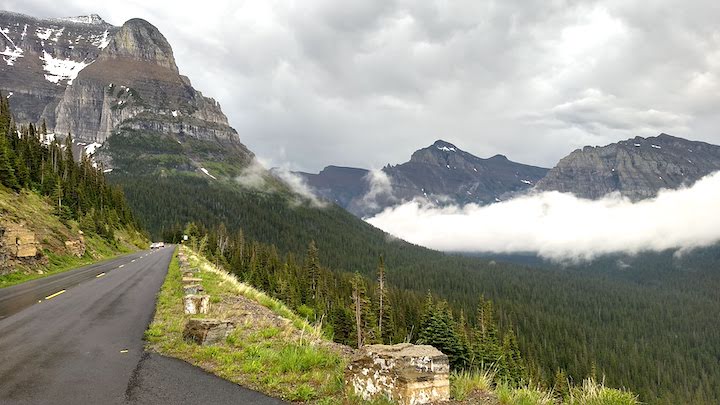 Going later in the day is also a good idea when others are heading back for dinner and the evening to their campsite or lodge.
Congested Parking at Logan Pass and the Trailheads
We got to Logan Pass late morning and the parking lot was only half full. But again, the forecast had maybe caused many to sleep in or linger over breakfast.
By the time we finished our hike—maybe an hour-and-a-half later—the lot was almost full. Apparently it can fill up by 10:00 a.m. during the high summer season.
The trailheads are the same—limited parking with lots of people wanting to take advantage of these beautiful trails.
Your best bet is to plan ahead and map out a strategy of what you want to see the most and which trails are highest on your list. Time your drive around those earlier or later in the day and you should be fine.
Unpredictable Mountain Weather
Some friends of ours had been in Glacier and on Sun Road just a few days before we were there. Bummer for them—the clouds were low enough to hide the peaks and it rained during their hike.
As it turned out for us, the clouds stayed but were higher, and the rain stopped within a half hour of the start of our drive. So we didn't get wet (although we were prepared for it), and had some really dramatic views with the low clouds coming in and out of the peaks.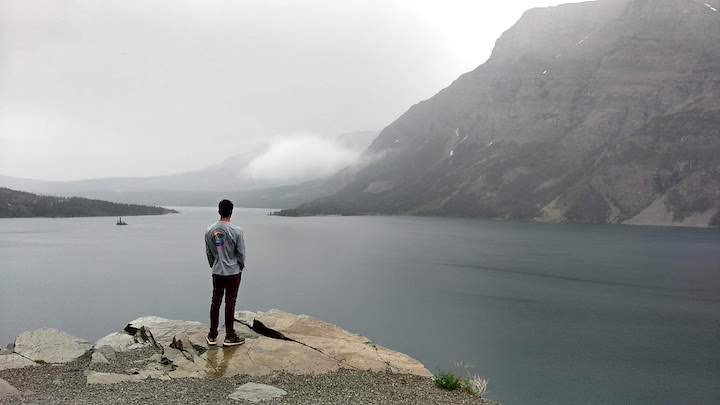 Mountain weather is very changeable, so be prepared for anything! And it's 3,300 feet higher at the Pass than when you start, so the temperature difference could be significant.
Layers and rain gear are great options anytime you're in the mountains.
Going-to-the-Sun Road is an Engineering Marvel
It took more than two decades of planning and construction before Sun Road was completed in 1932. "Sheer cliffs, short construction seasons, sixty-foot snow drifts and tons of solid rock make road building across the Continental Divide a unique challenge."
The last section to be completed was the 10 miles to the east of Logan Pass: "The most difficult construction on Colonial's contract was the 405-foot East Side Tunnel. No power equipment could reach the tunnel so laborers carried all the excavated rock out by hand."
(These excerpts are from this document published by the National Park Service.)
Resources from our National Park Service:
Driving Going-to-the-Sun Road
Our last experience in Glacier and Sun Road was in 2019. Starting in 2020—or 2021 rather, after the covid shutdown—the park began a vehicle reservation system to drive the road.
If you plan to visit Glacier between the end of May and early September, you'll need a reservation to drive certain segments of Going-to-the-Sun Road.
"This pilot program is an effort to reduce congestion, improve visitor experience, and protect park resources," says the National Park Service. You can find all the details here.
A Celebration of Beauty
A country investing this much effort and expense to create, maintain and drive a 51-mile road is a celebration of the spectacular beauty we find there.
Why is beauty so important?
I'm not a psychologist or sociologist, but I know how this kind of beauty affects me. And, based on studies and human experience, it affects most people the same way.
Beauty inspires. Makes us breathe deeply. Appreciate. Causes wonder. Draws us toward it.
The plentiful wildlife in Glacier adds to that beauty—but the elk, moose and grizzlies don't appreciate it or respond to it like we humans do.
The Christian worldview says we humans love beauty because we're made in God's image—and He loves beauty.
Here's more…
Latest posts by Sharon Brodin
(see all)