Old Man's Cave is the main attraction in southeast Ohio's Hocking Hills State Park. It's not just a cool cave—it's an awesome loop hike with several options for length.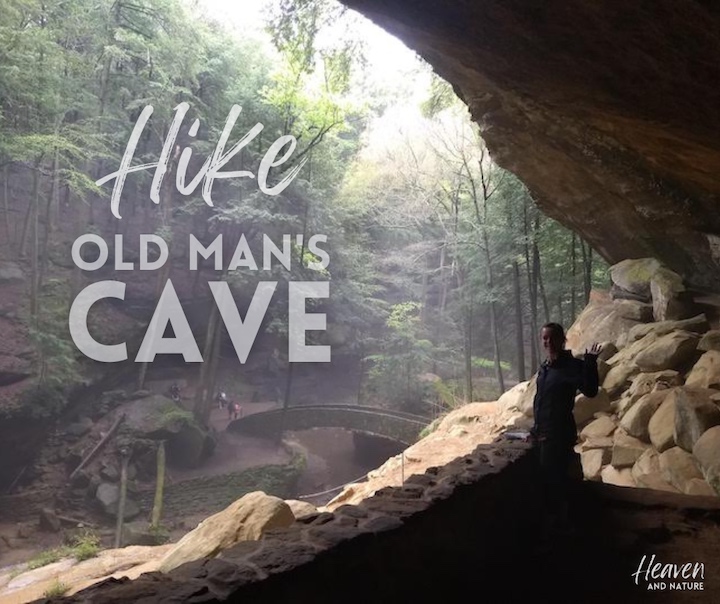 My daughter, Jamie, and went on a road trip together to West Virginia a couple years ago to visit friends.
I'd never hard of Hocking Hills until a friend shared something about it on Facebook. The photos convinced me it was worth taking the time to drive an hour out of our way, and are we ever glad we did!
There's a large Visitor Center at Old Man's Cave and a large parking area. Unfortunately, the Visitor Center was closed (presumably still due to Covid restrictions) so we couldn't pick up any printed info, including a trail map. But the signage makes it easy to find your way for the most part.
Our visit was mid-day on a Tuesday in early May…and it was rainy. So there were very few visitors that day compared to what, I'm sure, would be normal for weekends and during the summer. (The size of the parking lot is a good indication of how busy it can get!)
Why You'll Love Hiking Old Man's Cave Loop
We wanted to see things we don't commonly see in Minnesota, which is why we wanted to focus in on the main cave features of Hocking Hills.
But the cave was just one of the reasons we liked this hike so much…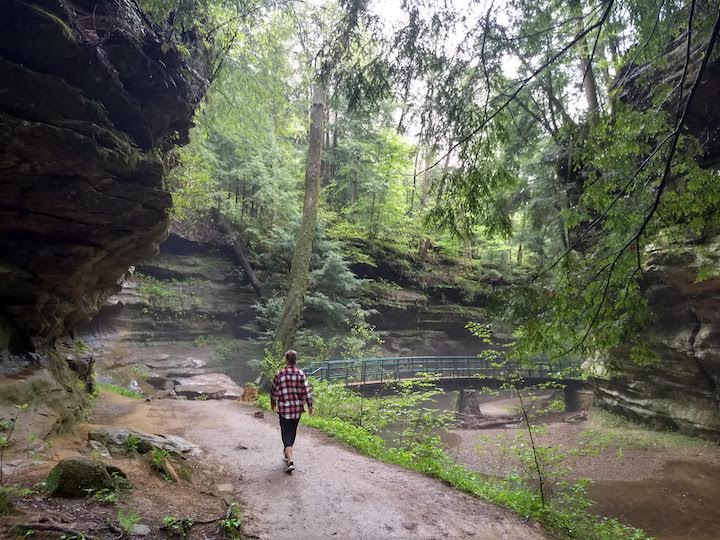 It's Gorgeous
We visited in early May so spring was in the air. The trees and the moss lining the cliff walls were SO green, especially in the light rain. There was lush vegetation of all kinds. Mature trees towered over us.
I found out later by looking at the map online that there's also a Gorge Overlook trail. I'm sure it'd be beautiful, too. We took the trail in the gorge, called Grandma Gatewood Trail (I'm sure there's some history there).
The rock walls of the gorge, the intense greens, the creek and waterfalls and the dramatic cave all add up to almost sensory overload.
Not in the way a mountain scape does—grand and sweeping—but in a more intimate way. You feel closed off from the world down inside the gorge.
Old Man's Creek & the Waterfalls
We expected the creek and falls to be higher since we were there in the spring. Whether it's just a small creek or whether it had been dry for awhile, we didn't know. But it was very pretty just the same.
The creek water is clear with a greenish tint, particularly noticeable in the pool beneath the Upper Falls. There's a Middle Falls right beneath Old Man's Cave, and then a Lower Falls we didn't get to see because we didn't know about it (we didn't have a trail map).
There's also a water feature called Devil's Bathtub where the creek falls into a cauldron and spins into a whirlpool.
None of the waterfalls are big or extra amazing, especially by Minnesota standards. But the overall setting in the gorge that makes them so lovely.
There were also several places where water was spilling down over the cliff walls, which added to the beauty and mood of the place.
The Cave
Old Man's Cave was named after an old man who really lived in it with his two hounds back in the day. It's a large recess cave above the creek in a particularly beautiful spot in the gorge.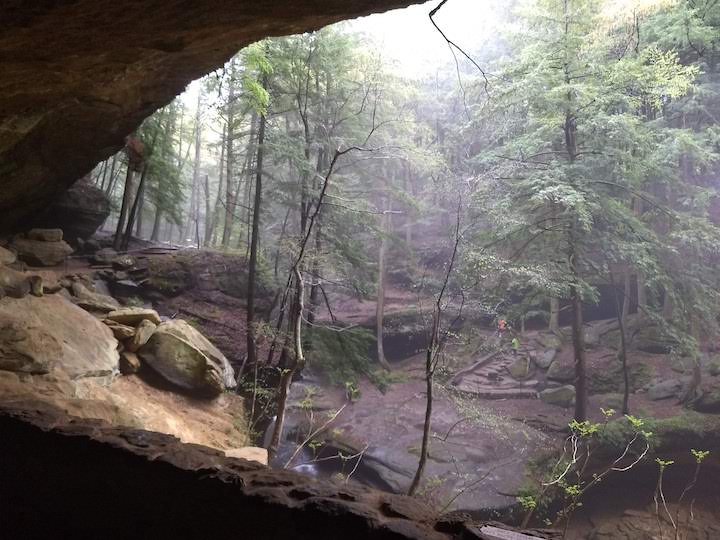 The hiking trail leads right up inside the cave. It's quite dramatic. As far as caves go, Rock House (also in Hocking Hills State Park) is cooler…but the hiking loop to get to Old Man's Cave makes this one the overall winner.
Cool Stone Walls & Bridges
Along with the stone walls of the gorge, there are several human-made stone walls along the trail, with bridges that cross the creek fairly often. I love things like that so they made the hike even more enjoyable, even if it distracts from it being entirely natural.
What to Know about the Loop
Lots of Ups and Downs
You need good knees for this hike! It's not long—maybe a mile around the loop—but there are plenty of steps. I wouldn't call it strenuous, but consider trekking poles if you have knee or hip pain.
It's a One-Way Trail
We'd couldn't remember being on a one-way hike before, but it's really nice! It seems less crowded when you don't meet people on the trail. And in a few places the trail is simply too narrow to pass.
We did disobey the law once to get back up to the Visitor Center, but no one else was in that area at the time so we felt OK being a bit rebellious.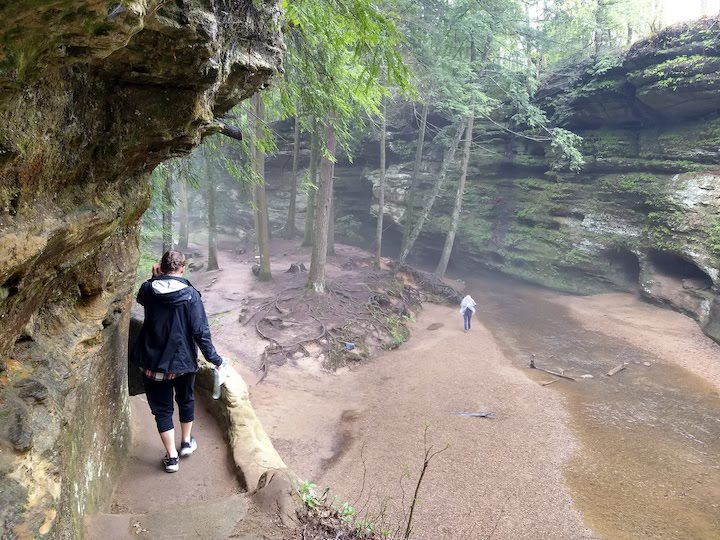 Try to Look at the Map First!
We would've saved some time and not have missed the lower falls if we'd have had a map.
We also might have decided to hike the Gorge Overlook Trail if we'd known it was there. You can find a map on this page, and hopefully the Visitor Center will open up again soon for a printed one.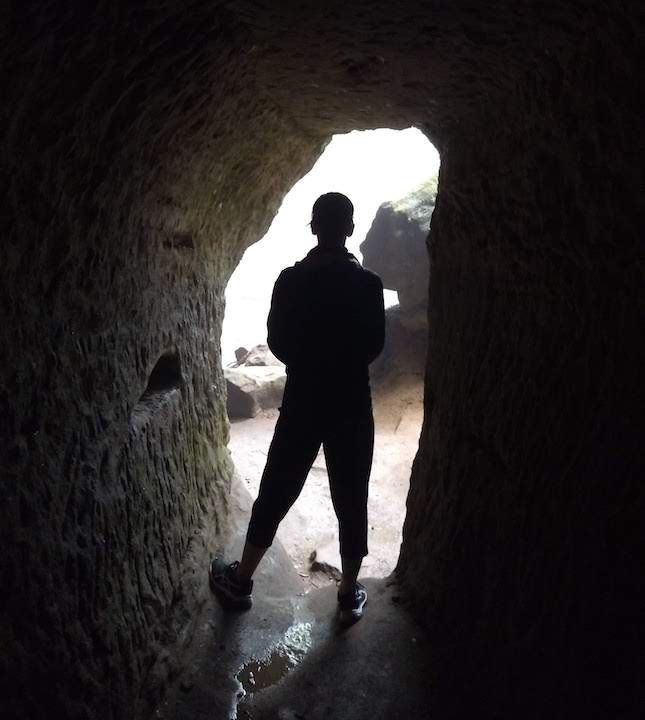 How to Get There
Set your GPS for Hocking Hills State Park in Logan, Ohio. It's just over an hour southeast of Columbus, two hours east of Dayton and two-and-a-half hours east of Cincinnati.
Once you're in the area you'll see signs for the park. Then look for signs to Old Man's Cave.
Hocking Hills is considered Ohio's most popular state park, getting around 2 million visitors each year, just FYI when you make your own plans to visit. Consider skipping the busy summer season.
There's no fee to enter the park or hike the trails. Here's an FAQ page for the park.
Final Thoughts
It was well worth adding a couple hours to our travel day to swing by Hocking Hills State Park. We knew we only had time to hit a couple of the attractions, and we're very glad the hike to Old Man's Cave was one of them.
It would be well worth spending a day or two at the park as there are several cave attractions. There's a large campground nearby, although we didn't stop to check it out.
Aren't you glad the Lord created so much diversity in the terrain, vegetation, landscapes and beauty in our world?
This state park in Ohio offers a much different experience than the state parks we've visited in our home state of Minnesota. And that's true all across the country, our continent and around the world.
It's a privilege to get to explore new places when we get the chance!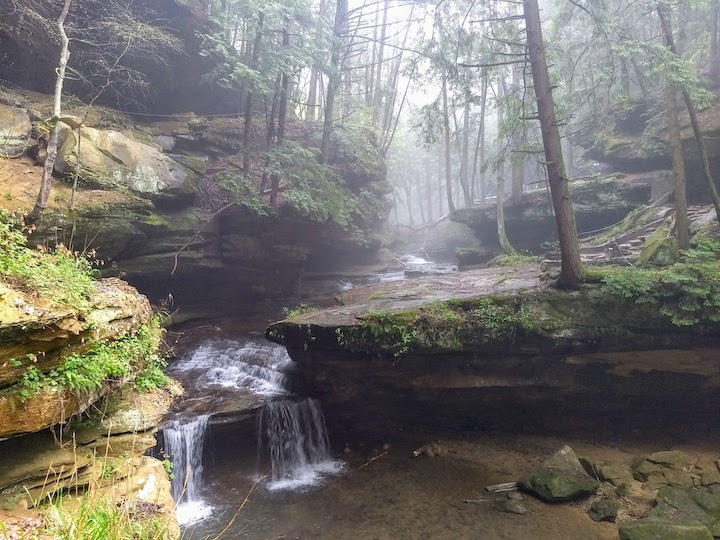 Here's more…
Latest posts by Sharon Brodin
(see all)