Which is best: a public or a private campground? Yes!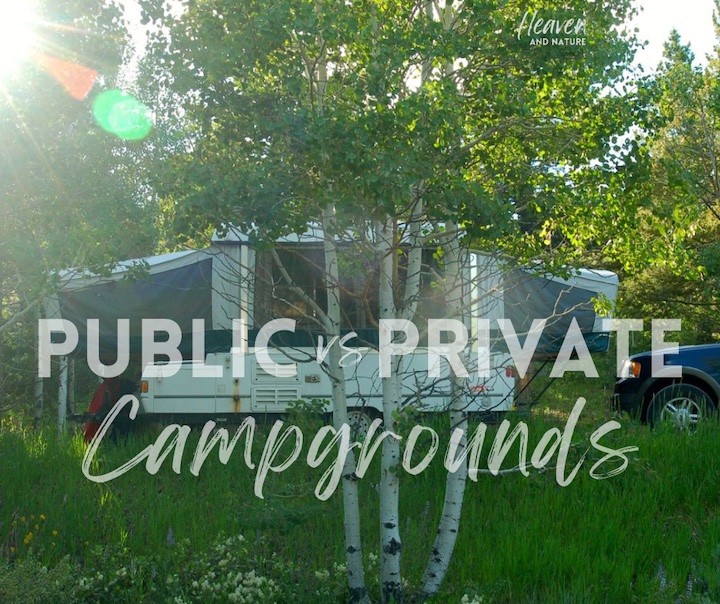 It depends on your budget, the location, amenities you want or don't want, crowds you want or don't want.
Public campgrounds are run by county, state or federal agencies. They're paid for by our tax dollars and run by government employees.
Private campgrounds are run as a business and owned by individuals or corporations. Many times, private campgrounds are family owned.
There are advantages and disadvantages of each type. Here are the basic differences we've found based on camping we've done in various parts of the US:
Public Campground Pros & Cons
Advantages of Public Campgrounds
Public campgrounds tend to be cheaper than private ones. That's because their costs are supplemented by our tax dollars. As of this writing (2023) state park campgrounds in my home state of Minnesota run between $20-25 a night.
Of course each state's fees will vary. Some are lower, some higher. Some charge more for out-of-state campers than they do the "locals." But generally, their fees are lower—sometimes much lower—than private campgrounds in the same location.
Public campgrounds also tend to command the prime locations within the parks themselves.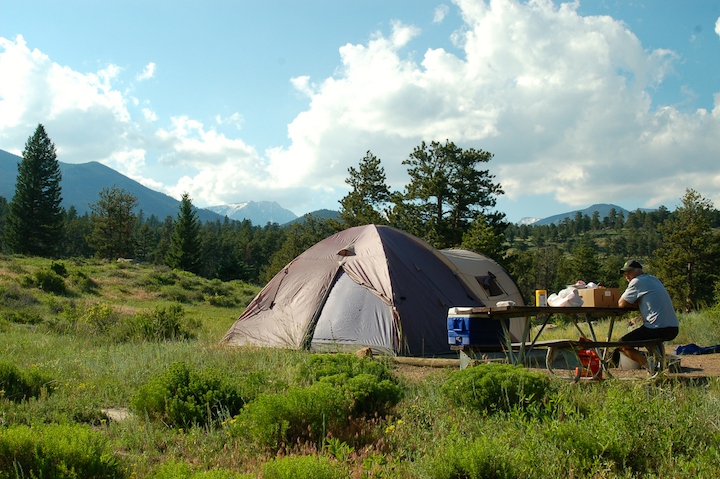 If you want to camp right in your national or state park destination, chances are most or all of your choices will be public campgrounds.
Disadvantages of Public Campgrounds
Public campgrounds almost always have fewer amenities than privately owned ones. Many of the ones we've stayed in don't have showers or electricity available.
If you want to stay in a public campground in one of the popular parks, be prepared for LOTS of people. There can easily be 200-300 campsites in one campground in the bigger national parks.
In many public campgrounds, some or all of the campsites are first-come/first-served. You'll be taking your chances if you don't plan ahead—sometimes months ahead.
And even if you do plan ahead, you may find yourself waiting in a long line to find a site during the busiest seasons.
Because public campgrounds rely on government funding, it's not always possible for the staff to keep up with them as well as private ones. They're at risk for budget cuts and even closing during government shut-downs.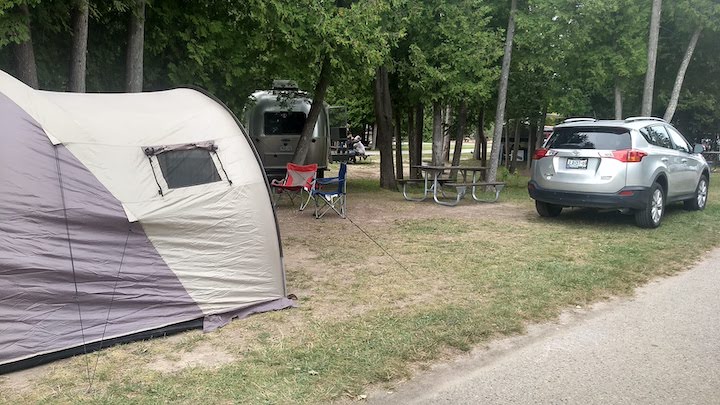 Private Campground Pros & Cons
Advantages of Private Campgrounds
The biggest advantage is the level of amenities you get at a private campground. Showers, often clean and well-maintained bathrooms, electric hookups, a campground store, playground, planned kids' activities, etc. All are common at private campgrounds.
Some even rival resorts in their activity offerings: golf or mini-golf, swimming pools, hot tubs, volleyball, fishing guides, movies and more.
Just like any other business, the level of professionalism, cleanliness and available activities depends on the owner, management and staff.
Private campgrounds tend to be smaller, if that's important to you. We've not found a private campground with 200 sites like at some of the big national parks.
In our experience, private campgrounds always offer reservations ahead of time. We've often opted to pay more for a private campground site than a public one if it gave us the ability to make a reservation.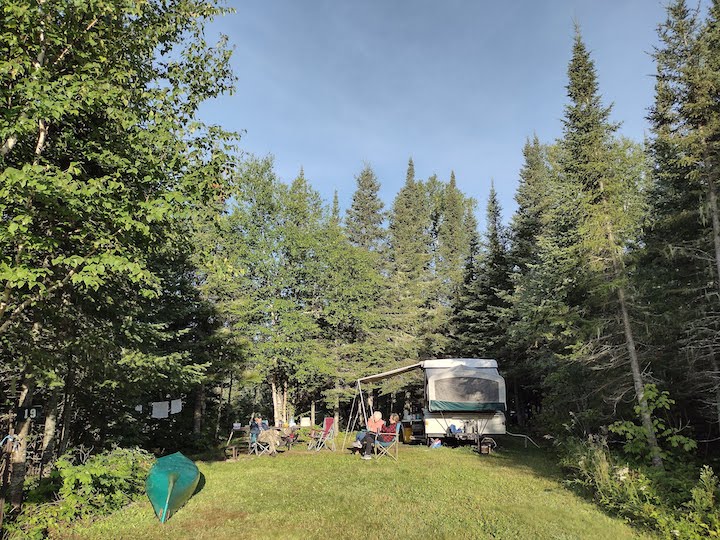 The last thing I want, after driving 8-9 hours to a neighboring state, is to find all the campsites full at a campground where we were hoping to stay!
We've been on 2-week family road trips to national parks several states away. At times I've intentionally made reservations in private campgrounds for a night just so we can all shower in-between the public campgrounds. Or so we can do a couple loads of laundry.
Disadvantages of Private Campgrounds
For the obvious reason that the owners need to make a profit in order to keep their business running, private campgrounds are more expensive than public ones. Their nightly fees can be twice or three times the rate of their neighboring public campgrounds.
And, as mentioned above, if you want to be smack in the middle of your favorite state or national park, you're unlikely to find a private campground. But there are always private campgrounds nearby.
The Types of Campsites at Each
We've found the size, quality and privacy of individual campsites varies widely in both public and private campgrounds.
Some private campgrounds cater to RV travelers and have sites that are little more than slots in a parking lot. And we've stayed at public campgrounds where the sites were so crowded together that it was hard to get any sleep.
And we've had the opposite at both, too.
Some campgrounds—public and private—have a map, photos and descriptions of their sites. That's super helpful, and if at all possible, those are the campgrounds we choose. We'll reserve a site based on these clues.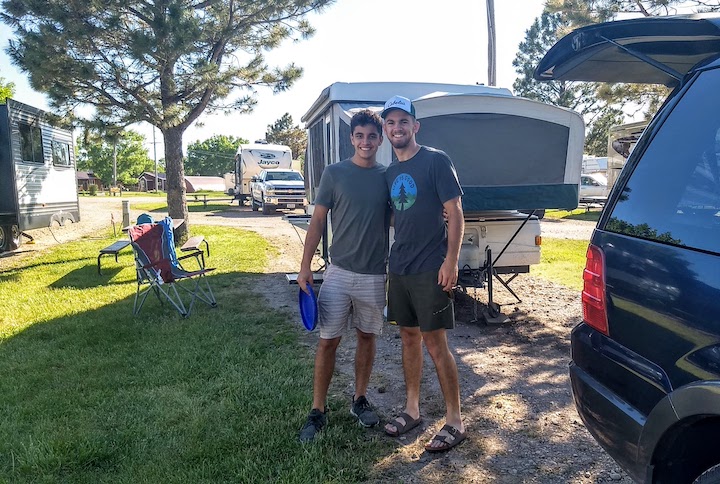 We still can't be sure on the wisdom of our choice until we get there, but it's a great start.
Adventures and Memories
We Americans are fortunate to live in a country with thousands of campgrounds to choose from.
They help make road trips affordable for families, and add to a myriad of childhood adventures and memories. I can attest to this from my own growing up years, and the years my husband and I raised our kids.
Whether a campground is a destination in itself, or a stop-over to a destination, it's really fun to explore them. To discover new favorite ones and put others on the "never again" list.
Campgrounds have made it possible for us to show our kids so many of our precious national natural resources. The beauty and wonder of God's created world.
Camping can get you in that created world better than any other lodging option. For example: How many times has a deer or moose walked through your hotel room? We've had them walk through our campsite:
So whether you choose public or private (we choose both), go out there and have camping adventures!
Here's more…
Latest posts by Sharon Brodin
(see all)