Colorado in general, and Breckenridge specifically is world-famous for its alpine skiing. But the 360 inches of snow they average each winter makes it an amazing destination for snowshoeing, too!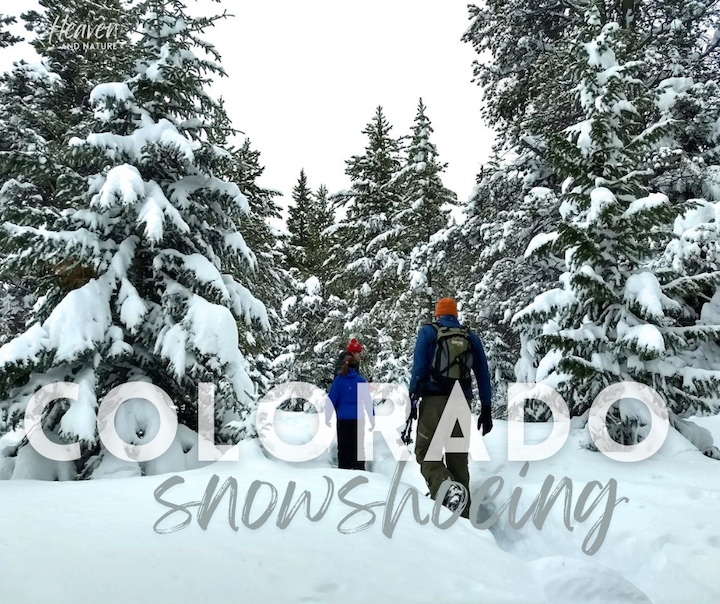 Nick and I last were out at Breck for a couple days on a trip to visit our Colorado family. Not only did we get out downhill skiing (my first time in 19 years!), I had brought my snowshoes along so I could enjoy the slower pace of the trails, too.
Snow, Snow and More Snow
That year—2019—was a banner year for snow in the Twin Cities where I live. It was an exceptional year for snow in the Colorado mountains, too.
As if to reiterate that, we got 30 inches of fresh powder in the two days we were out there!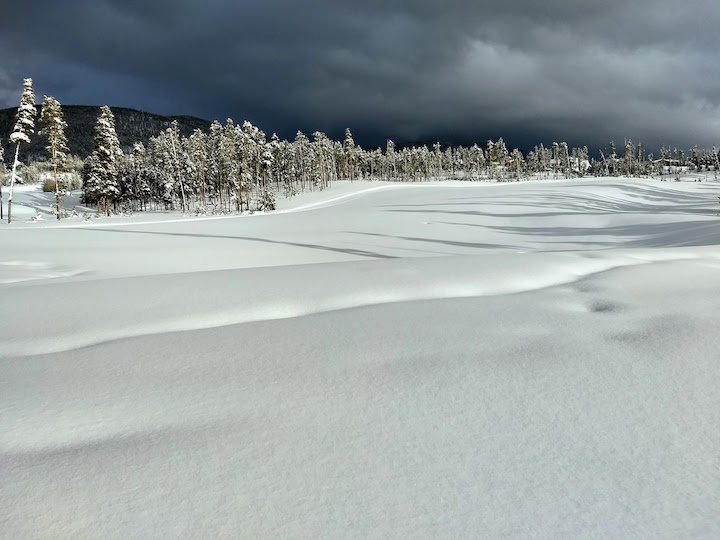 What beauty! And warmer than our temps had been in Minnesota, so that was a plus for us. We could enjoy being out in this winter wonderland without wearing so many layers.
Breckenridge Nordic Center
If you've been snowshoeing in deep snow, you know that trail blazing takes a ton of effort! The nice thing about snowshoeing trails is you can enjoy the beauty and not have to work so hard.
So while you can snowshoe anywhere there's public land and snow, paying to use trails in a place as gorgeous as Breck is excusable occasionally (especially if you're an out-of-stater like we were).
(I honestly hadn't heard of resorts charging to use snowshoe trails before, but they do there.)
My older brother, David, and his wife, Kris, and I decided to sign-up for a semi-private guided trek. It turned out to be a fun investment. Our guide, Henry, was super personable and knew his stuff well.
A Guided Trek means History and Nature Lessons
We talked animal tracks, bear claw marks, snowfall, trees, the ski resort, and got a tour and history lesson in a restored original log cabin on the property. And Henry took this ultra-fun panoramic photo of us: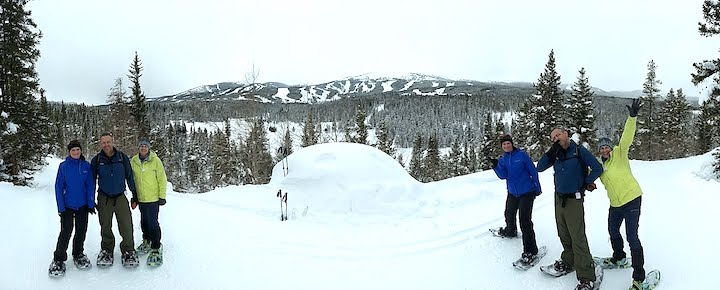 And then since the trek included our trail pass, we could've spent as long as we'd wanted the rest of the day to keep exploring (the $23 trail pass is good for the whole day).
Or we could've traded our snowshoes for nordic skis and tried out their pristinely-tracked cross country trails.
Other benefits of choosing the guided trek:
Henry had a couple water bottles each for us (that he carried)
We could've gotten free hot chocolate back at the Nordic Center if we'd wanted to
Dave and Kris were able to try out their rental boots without having to pay to rent them
We all agreed it was a great experience.
Another Local Trail: Keystone's River (Golf) Course
My younger brother, Joel, spends lots of time in the Dillon/Silverthorne/Breck area. He knew of a gorgeous snowshoe trail on the Keystone River Golf Course in Dillon.
So after a full day of alpine skiing at Breck, he and I couldn't resist strapping on our snowshoes as the sun came out late in the afternoon. We hit the trail about 4:30 pm.
I don't know what I was expecting, but it wasn't scenery this stunning! It was absolutely gorgeous. Of course, it always helps to have a thick blanket of fresh snow and beautiful lighting.
One of my favorite things about Colorado are the lodgepole pine, ponderosa pine and aspen trees. They're different than what we have in Minnesota. The red bark of the ponderosa pine, especially, were so cool set against the deep snow.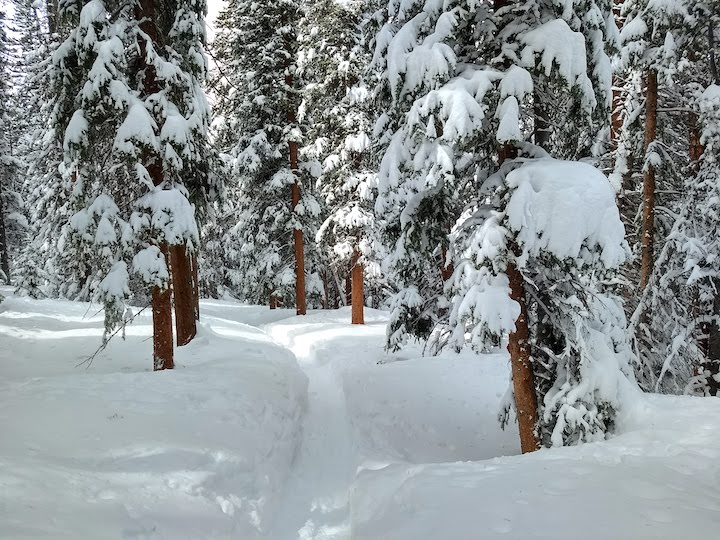 The trail was a fantastic variety of hills and valleys, in the trees and out in the open. There are several vistas overlooking the surrounding valleys and mountains in different directions.
I would say this trail is even prettier than the one in Breck for views.
Here are a few shots from our trek, which was maybe an hour or so long: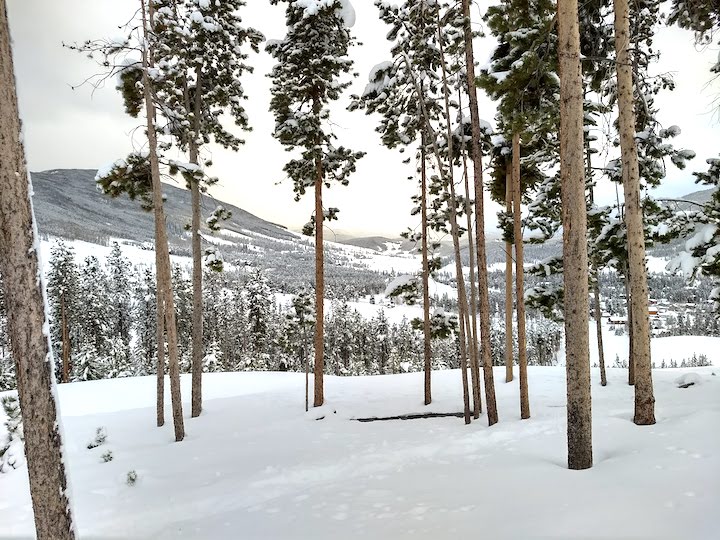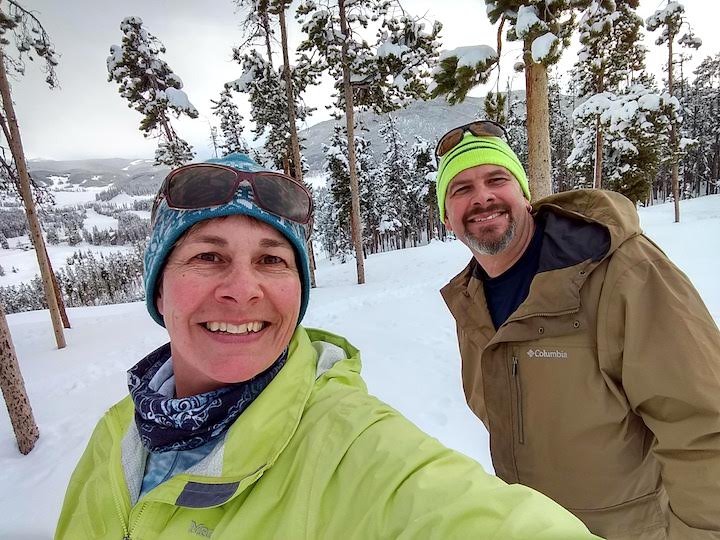 Getting There
The Breckenridge Nordic Center is, of course, in Breckenridge. The Keystone Nordic Center is at the River Course a few miles southeast of Dillon. About 2-1/2 hours west of downtown Denver off Interstate 70.
Beauty on Another Level
Nick and I hadn't been out to the mountains in the winter in 19 years. Getting back out there, we realized it had been way too long!
It's a different experience than in the summer, and well worth it—especially if you love snow like I do. It's beauty on another level.
It makes me incredibly grateful to be able to see and enjoy places like Colorado in the winter.
The mountains and valleys…the deep red of the ponderosa pine bark contrasted with the piles of pristine white snow…realizing all that snow is a collection of millions of individual snowflakes, all different.
I love that God designed us to be able to appreciate the beauty, the uniqueness of all this. That kind of appreciation is unique to humans. And it reflects our Creator and His own love of beauty.
Here's more…
Latest posts by Sharon Brodin
(see all)