Camping cabins can be a great alternative when traveling—even if your family already has a tent or popup camper like we do. We've often used them when we're en route to a final destination (especially when that destination is home)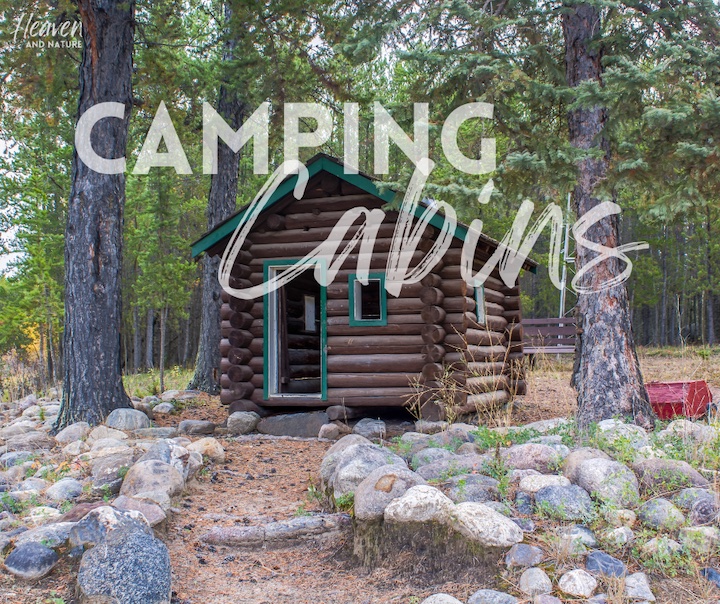 The idea behind a camping cabin is that you have four solid walls, a roof and bunks to sleep on. You don't have to set anything up or pull an RV. You bring your own bedding like you would if you were tent camping.
Have you ever taken advantage of one of these? Here's what you can expect:
Common Amenities in Camping Cabins
At its most basic, a camping cabin is just what was described above: four walls, a roof and bunks. A solid shelter for sleeping.
Many cabins offer more, though. These are all possiblities:
Some kind of front porch for a sitting area. One of ours had a porch swing.
Picnic table and/or charcoal grill.
Two rooms instead of just one, sleeping up to 6 people.
Electricity
Heat
Even an indoor bathroom (although pretty rare)
So, when should you use one and where can you find them?
Advantages of a Camping Cabin
Convenience
How easy is it to pull up to your little cabin, roll out your sleeping bags and you're ready for the night?
For those used to setting up a tent or pop-up camper, no matter how quick and easy, there's no set up with a cabin.
I took advantage of one of these in Nebraska last May when I was driving home to Minnesota from a 2-week solo road trip in Wyoming and Colorado.
For most of my trip I stayed in Airbnbs or with family. On the way home, though, the least expensive and most convenient deal was a camping cabin in a KOA campground just a few minutes off the freeway.
When You Don't have a Tent or RV
You still get the benefits of a campground stay. Maybe you're like us and have the gear, but don't always want to bring it or use it for some reason.
One of our cabin occasions was in the middle of a week-long stay at the Tetons and Yellowstone. We left our pop-up camper in our campsite in the Tetons while we drove into Yellowstone for a couple days.
We stayed at a KOA camping cabin that night on the north side of Yellowstone so we didn't have to drive all the way back to our camper.
More Cost Effective
A camping cabin almost always costs less than a motel, hotel or private short-term rental unit. We've paid from $55 a night to $150 a night.
[Now $150 doesn't seem like a deal—unless you compare it with the local motel prices! The summer we paid that much for our little rustic cabin was the summer we couldn't find a motel room in the area for under $450 a night! That was near Yellowstone.]
Luxurious Winter Camping
If you're like me and love winter but have no desire to camp in a tent in the snow, a year-round camping cabin is the perfect solution!
Usually these will be in a state or local park and will most often be rustic. Maybe not even electricity. But if it has heat, we're good to go!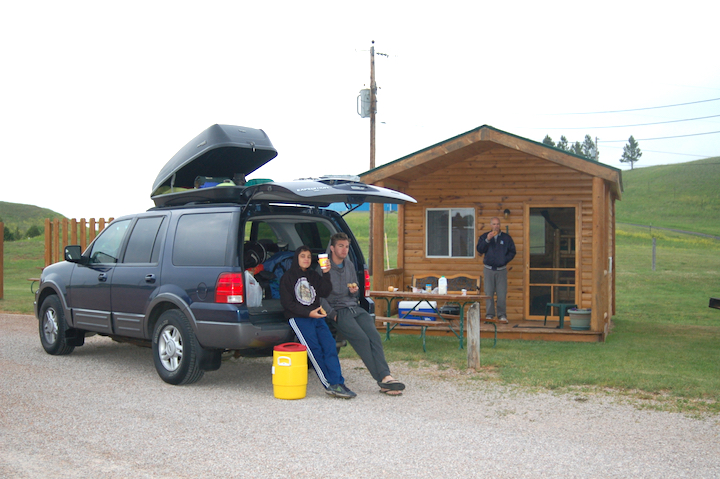 Disadvantages of a Camping Cabin
Cost More than a Campsite
If you're used to paying $20 for a tent campsite, $55 and up sounds like a lot. So cost is relative.
You Need Your Own Bedding
All you get in camping cabins is a mattress, so you'll want your own sheets/blankets or sleeping bags. This may or may not be an issue depending on how tightly your car is packed.
Limited Number Available
While a campground might have 200 tent and RV campsites, it may only have 2-4 camping cabins. So it becomes much more important to plan ahead if you want to nab one of those.
If you're flexible and can use them during the week instead of on weekends, you'll have a lot more options.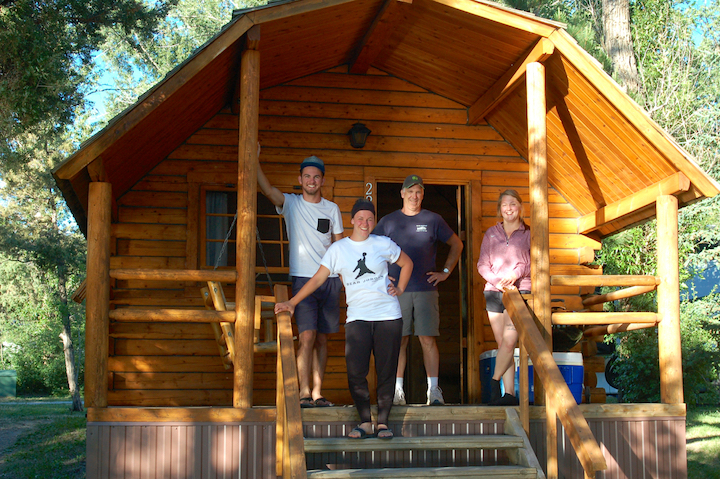 Where You'll Find Camping Cabins
Private Campgrounds
The times our family has used camping cabins have been in private campgrounds. In these cases you have the amenities of the campground at hand—showers, indoor bathrooms, camp store and maybe laundry facilities.
If you're a camper, you know about KOAs. Almost all KOAs have a few camping cabins. It's almost like staying in a small village, so you miss out on some of the privacy and quietness, but have many conveniences.
Chances are you won't find year-round cabins in private campgrounds in northern climates. Campgrounds close through the winter months up here. But in the south, winter is probably a better time—fewer bugs and cooler. Maybe fewer snakes and gators, too 🙂
State and Local Parks
These are almost always on the more rustic side, but you have the advantage of a beautiful and more natural location. Less busy, less commotion. Some of these will be open year-round.
The amenities in these public campgrounds really vary on the specific park. Some have hot showers and running water, some don't. Some have electricity, some don't. Some have a camp store or Visitor Center, some don't.
Camping Cabin's First Cousin—the Yurt
Yurts have become more common in the past few years, too. Of Mongolian nomad heritage, yurts are to ethnic Mongolians what teepees were to many ethnic Native American plains tribes.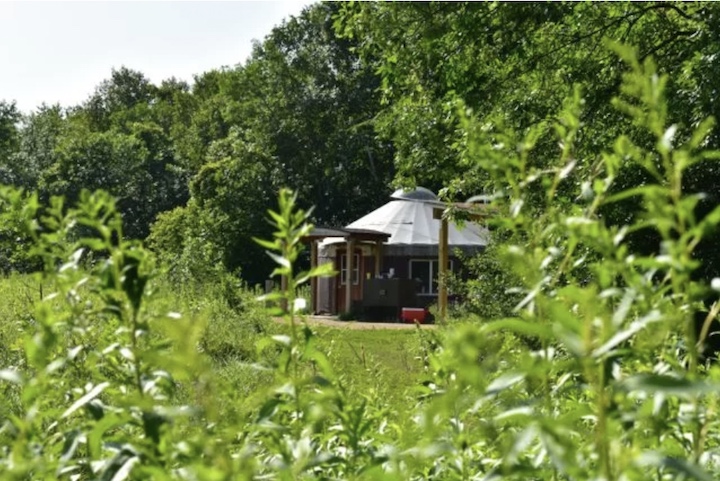 Prices and amenities seem similar to camping cabins.
I've yet to stay in one myself, but one of the state parks not far from us has a couple of them. Someday I want to try staying in one during the winter!
Are there Camping Cabins Where You Live?
All the above is based on our personal experience here in the American Midwest and West. On our own road trips.
What about where you live? Does your region or country have something similar?
Whether it's a stop-over on your way to or from somewhere else, or a destination in itself, a camping cabin can be a wonderful option.
Here's more…
Latest posts by Sharon Brodin
(see all)