The Hidden Lake Trail at Glacier's Logan Pass is a short and relatively easy hike, and oh so scenic!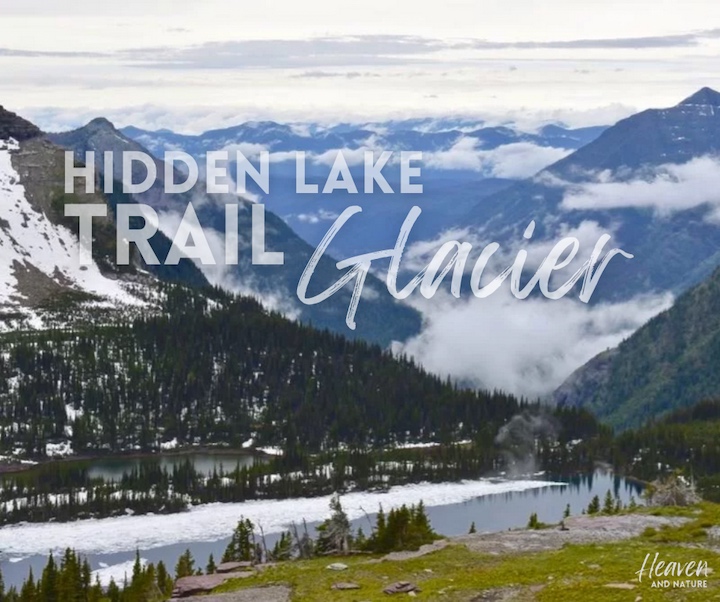 Going-to-the-Sun Road may be the most popular spot in Glacier, for many good reasons.
At the highest point on the road, Logan Pass, is this relatively easy hike: the overlook to Hidden Lake. (It's a bit more of a challenge if you encounter late spring snow and mud like we did!)
Despite having been to Logan Pass 2-3 times in my life before this, I hadn't hiked it yet, so I was looking forward to doing this trail with two of our kids, our son-in-law and nephew.
This out-and-back hike is almost 3 miles if you turn around at the overlook. You can go further on down to the shore of Hidden Lake if you choose. That adds another 2.5 miles to your round-trip hike, as well as another 770 feet of elevation (first down, then back up!).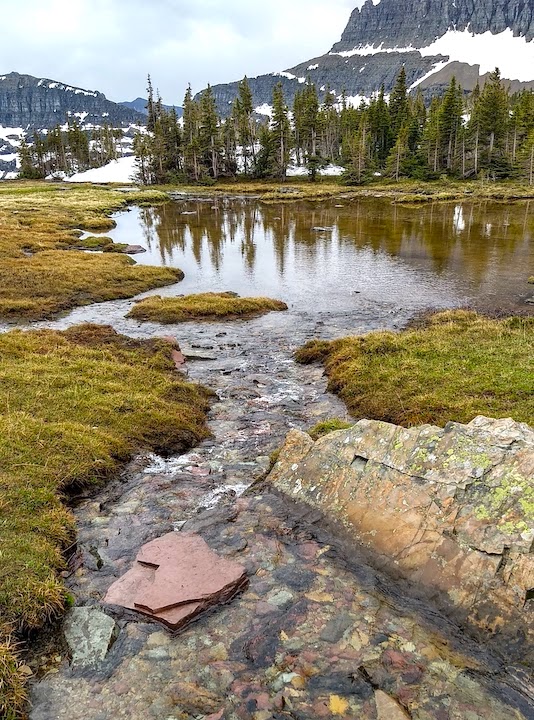 Why the Hidden Lake Hike is a Must
This is a trail the whole family can do, assuming everyone is in moderately good condition. We saw families with young children, older folks, even elderly folks who were in good health.
Because the trail is out in the open the whole way, the views are outstanding—the whole way! As you can see from the video below, you have a 360º view all around you, so stop often to enjoy it.
This is one of the shortest hikes you can do in the park to get these dramatic views.
Wildlife is abundant at this altitude. We saw a mama mountain goat with her two kids running around on the sheer mountainside. A couple of marmots were poking their noses out quite near us on the overlook platform.
Bighorn sheep and the occasional grizzly bear are also around (we heard of a bear in the area a day or two after we were there).
Avoid the Crowds
Because the Hidden Lake Trail is along Going-to-the-Sun Road and is so accessible and family-friendly, this hike is extremely popular. The parking lot at the Visitor Center at Logan Pass fills up quickly during the busy summer season.
To avoid these crowds and find a parking spot, your best bet is to get going early. Shoot to be at the parking lot early in the day, especially in July and the first half of August. Or head out later in the afternoon for an evening hike.
Another option to avoid parking altogether is to take advantage of the park's free shuttle service. The shuttles make multiple stops along Going-to-the-Sun Road, including the Visitor Center at Logan Pass.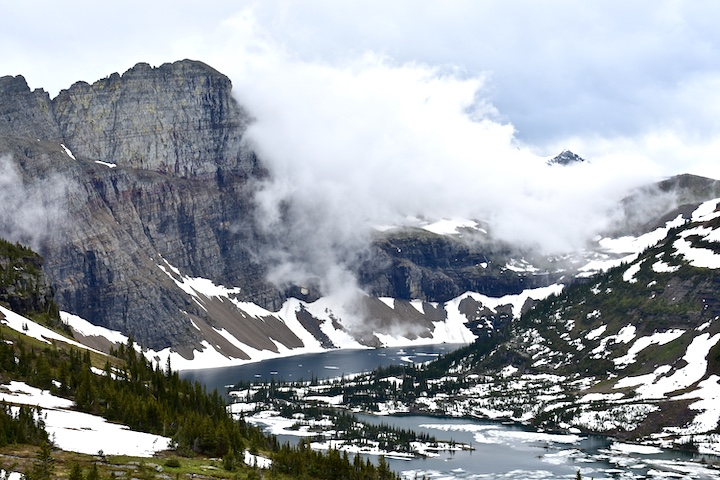 We were there the last week of June. I think partially because we happened to drive the Sun Road on a day when an all-day rain was forecast, there wasn't as much traffic.
We arrived at Logan Pass late morning (having stopped here and there on the way, coming from the St. Mary Visitor Center) and there were plenty of spots left.
But on our way back down the mountain, there were many more people starting on the trail and the parking lot was almost full.
If you decide to continue on the trail down to the lake itself, there will be far fewer people joining you. It would make a super half-day activity if you pack some snacks or lunch.
Dress for Changeable Weather
It's a good idea to be prepared for changeable weather anytime you're in the mountains. Wear layers you can either add or take off. Bring a rain jacket along, even if the skies are blue when you leave your campsite or lodge.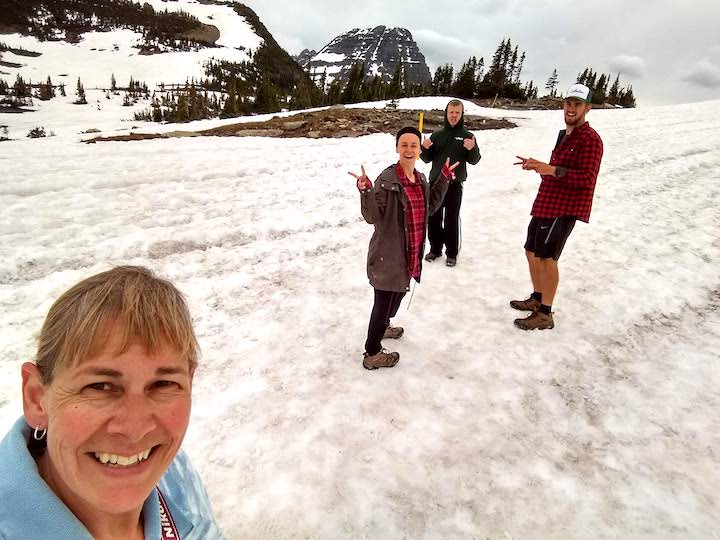 It very likely will be cooler at Logan Pass than wherever you come from lower down, and, being in the open, may be windy. A rain jacket helps as a windbreaker even if there's no rain.
If the sun is shining, you'll be in the open the whole trail, at an elevation of between 6,000 to just over 7,000 feet. You'll want sunscreen on exposed skin.
Hidden Lake Trail is well-trodden and not particularly rugged, but there could be mud and snow in places. When we were there in late June, most of the trail was still snow covered. Your best bet are waterproof trail runners or hiking boots with good support.
How to Get There
NOTE: The National Park Service now has a reservation system to drive Going-to-the-Sun Road. You must have a vehicle permit. It's good for three days so it gives you some flexibility with the weather and other activities you'll want to do.
The Hidden Lake trailhead starts right at the Visitor Center at the Logan Pass parking lot. You can't miss it. You can enter Going-to-the-Sun Road either at the St. Mary entrance on the east side or the Apgar entrance on the west side.
If you're heading to Glacier before the end of June or into October, be sure and check that the Sun Road is open before planning your hike. It usually doesn't fully open until mid-June (when we were last there in 2019 it wasn't until June 20) and can close as early as October, depending on snowfall.
A note about driving distances in Glacier: Even though the mileage doesn't seem that far, these are mountain roads, so it takes longer to get places. It took us about an hour to drive from our campsite at Two Medicine to the St. Mary entrance for the Sun Road.
Be sure and factor that into your drive time when making your plans!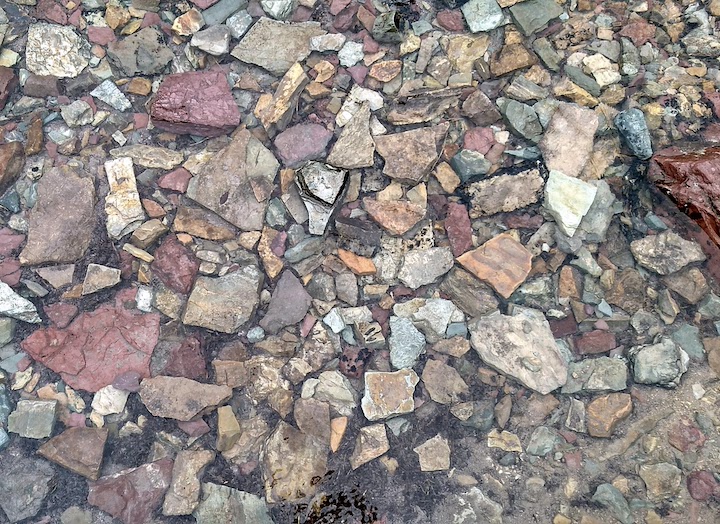 Answered Prayer
On this particular family vacation, back in 2019, the Lord taught me so much about asking Him for things that are a big deal to me, but seem so trite in the grand scheme of things.
I'm mainly referring to the weather. I started to ask Him for favor with the weather when there was snow forecast during our camping weekend in the Bighorns.
He answered that prayer—the temps were cool, but no snow. Not even rain. So I kept asking. I even felt that He was telling me to keep asking—don't feel guilty about asking for favor with the weather!
On the day we chose to drive Going-to-the-Sun Road for this hike, as I mentioned earlier, rain was forecast for the whole day. I asked Him for favor with the weather, like I had many other times this trip.
It was raining steadily when we got to the St. Mary Visitor Center…and continued when we were done shopping and started up Sun Road. But within a half hour the rain stopped, and didn't start again.
The clouds were low and over the mountains, but not so low than they hid them from our view. In fact, the clouds made the views cooler! They kept rolling over the mountains and into the valleys. It was a very different experience than it would be in the sunshine.
I was so grateful for the way the Lord heard me that day. I continue to pray like that often—not dictating, but asking for favor. He doesn't always answer the way I wish He would, but I always am thankful when He does.
(This article from HikinginGlacier.com was very helpful for some extra details.)
Here's more…
Latest posts by Sharon Brodin
(see all)